BILLINGTON FOODS FULL FACTORY REFURBISHMENT
TSC FOODS FACTORY RENOVATION PROJECT OVERVIEW
Chilled and frozen food business Billington Foods (formerly TSC Foods) approached us with a brief. They wanted to make widespread changes to their factory facility.
Due to growing business demands, the client required a complete internal redesign of their factory. This change was to create increased production space by converting it from packing space.
We staged the project over two years to allow minimal disruption to Billington Foods' production operations.
PROJECT BENEFITS
The factory developments at their Scunthorpe site mean TSC now benefit from:
Increased manufacturing capabilities – Production floor space within the factory increased by 40%
Optimised factory layout – The internal redesign meant that produced foods are packed and ready for distribution quicker.
The strategy entailed cordoning off small sections of the factory to perform works. This plan enabled the factory to sustain maximum production capabilities. Walkways allow TSC staff to move freely around the plant to be able to do their roles.
We installed hygienic PVC-based walls throughout the factory to maintain a clean production environment and to prevent the spread of bacteria.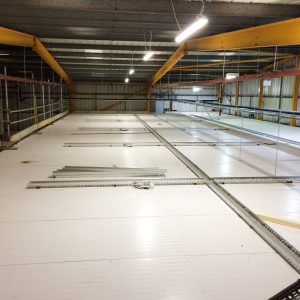 Factory-wide suspended ceiling fitting. This addition is to resist moisture, meaning the production space is more hygienic and healthy.
Post Installation of PVC hygienic wall cladding and resin flooring.
TSC Foods factory post-refurbishment waiting for machinery installation.